The history of NEWDA
Est. 5/27/1985
NEWDA WAS FORMED ON MAY 27, 1985, AFTER THE CLOSING OF NASHVILLE TWO – A WESTERN DANCE CLUB IN HIGGANUM, CT.  IT'S FIRST MEETING WAS HELD AT THE HOME OF DON AND CHICKIE HARGER WITH 19 PEOPLE PRESENT.  THEY WROTE THE BI-LAWS AND ELECTED THE FIRST OFFICERS AT THIS MEETING.  DON HARGER WAS OUR FIRST PRESIDENT.  AT THE SECOND MEETING ON JUNE 9, THE NAME NEW ENGLAND WESTERN DANCE ASSOCIATION (NEWDA) WAS CHOSEN.  NEWDA WAS REGISTERED WITH THE STATE OF CT IN AUGUST.  WALT BERRY DESIGNED THE OFFICIAL LOGO, WHICH IS STILL USED ON THE BANNER THAT HANGS FROM THE RAFFLE TABLE.  IT WAS USED ON ALL ITEMS SOLD OR GIVEN AWAY BY THE CLUB.  IN SEPTEMBER OF 1990 THE LOGO WITH THE OUTLINE OF THE NEW ENGLAND STATES AND THE NEWDA BANNER RUNNING THROUGH THE MIDDLE FIRST APPEARED ON THE COVER OF OUR NEWSLETTER,

FOLLOWED BY THE DANCER'S LOGO WHICH FIRST APPEARED IN DECEMBER OF 1992 ON JACKETS.  THE MOTHER OF FORMER PRESIDENT DEANNA KINCH DESIGNED THIS LOGO.  HER INITIALS APPEAR IN THE FRINGE OF THE SKIRT, AND MADE ITS FIRST NEWSLETTER COVER IN NOVEMBER OF 1994.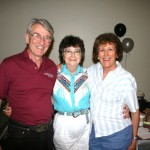 A TAG SALE WAS HELD IN WILLIMANTIC, CT TO RAISE FUNDS FOR THE FIRST DANCE.  IT WAS HELD AT THE COLCHESTER POLISH CLUB IN COLCHESTER, CT AT THE END OF SEPTEMBER AND WAS ATTENDED BY 30 MEMBERS.  ON FEBRUARY 15, 1986 THE CLUB MOVED DANCES TO THE HUNGARIAN COMMUNITY HALL IN WALLINGFORD, CT WHERE WE WOULD REMAIN UNTIL A FIRE IN 1992 BADLY DAMAGED THE BUILDING.  SINCE THAT TIME, THE CLUB HAS HELD DANCES AT WARSAW PARK IN ANSONIA, ST JEANS IN NEW BRITAIN, KNIGHTS OF COLUMBUS IN KENSINGTON, AND OLM IN PLAINVILLE (WHICH CLOSED IN JANUARY).  ONE OF THE BEST ATTENDED DANCES HAPPENED AT WARSAW PARK WHEN 251 DANCERS ATTENDED A HALLOWEEN DANCE ON OCTOBER 29, 1994.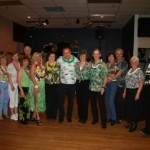 THE FIRST ANNUAL MEETING AND OUTING WAS HELD ON JUNE 21, 1986 AT STRAWBERRY PARK IN PRESTON, CT.  GENERAL MEMBERSHIP MEETINGS WERE HELD EVERY THREE MONTHS AND BY THE MEETING OF SEPTEMBER 1986, THE CLUB HAD GROWN TO 118 MEMBERS AND CONTINUED TO GROW REACHING 884 IN OCTOBER OF 1993.  ANNUAL MEETINGS HAVE BEEN HELD OVER THE LAST 20 YEARS AT PLACES RANGING FROM CAMP GROUNDS TO AMUSEMENT PARKS.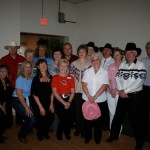 OVER THE LAST 25 YEARS 224 DIFFERENT MEMBERS HAVE SERVED ON THE NEWDA BOARD AND COUNTLESS OTHERS HAVE VOLUNTEERED THEIR TIME SO WE WOULD HAVE GOOD PLACES TO DANCE.  WITHOUT YOU, OUR MEMBERS, THERE WOULD BE NO DANCES AND THE FUN THAT GOES WITH THEM ON THE FIRST AND THIRD SATURDAY OF THE MONTH.  KEEP ON DANCING.
-AL AND JUDY ROBICHEAU – NEWDA HISTORIANS